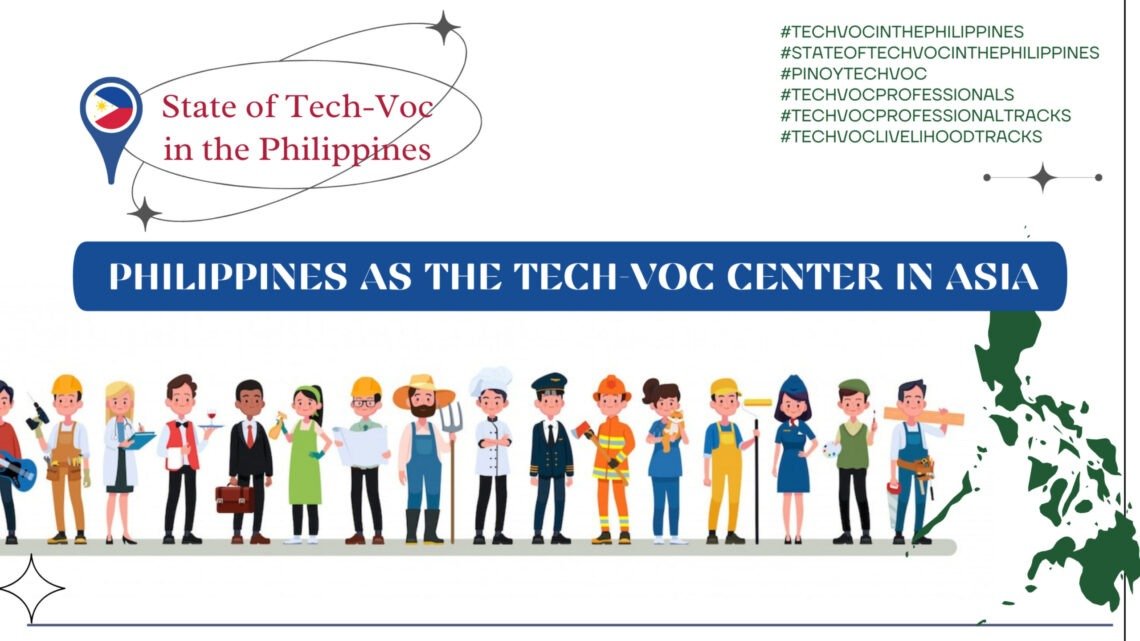 Reshaping the Philippines' Tech-Voc Education
April 21, 2022
Technical Vocational Education has been around in the Philippines for many years, enabling individuals to gain knowledge in many different industries in a specific amount of time. Individuals such as stay-at-home moms, out-of-school youths, drug dependants, seniors/retirees, unemployed people, and surrenderees are specifically targeted.
It is also the first choice for people who have completed secondary school because some cannot afford the expenses related to obtaining a degree.
However, there is still a stigma in the Philippines for graduates of technical vocational courses when it comes to job opportunities. That is something I believe the government should pay close attention to. Providing a higher level of skill and education comparable to that of a degree holder. So that they both have the same opportunity, treatment, honor, and recognition.
But if only our technical-vocational institutes (TVI) are managed and monitored well, they will be able to produce world-class and skilled graduates who can compete strongly against our neighboring countries. Because tech-voc graduates can fill an important role in different industries in the country and overseas. And if our tech-voc graduates become job-ready and globally competitive, they could contribute a lot to the national income and economy.
Like the highly-industrialized countries Japan, Singapore, and Korea have made necessary advancements in their educational system, focusing on academic excellence and technological innovation. These progressive countries teach their citizens to become productive, income-generating, and contribute to the national coffers. They emphasize the quality of products and services and invested in technical training. These countries believe in the strength of their manpower and their role in the national economy.
"Philippine TVET ang pag-asa para sa kinabukasan ng mamamayan at ng bayan, kung maayos at maganda ang programa."

Tony Galvez, an expert in the technical and vocational education and training industry in the country once said.
A Need for Framework Revision
Jaime Augusto Zobel de Ayala, CEO of Ayala Corporation, one of the country's top corporations, and a staunch advocate for the importance of technical skills in our society, once expressed that a vocational or technical degree should be given a prominent position in our country's educational framework. The curriculum should be wider and the accreditation status should be improved significantly so that it will produce young graduates with specific skills that match the market needs.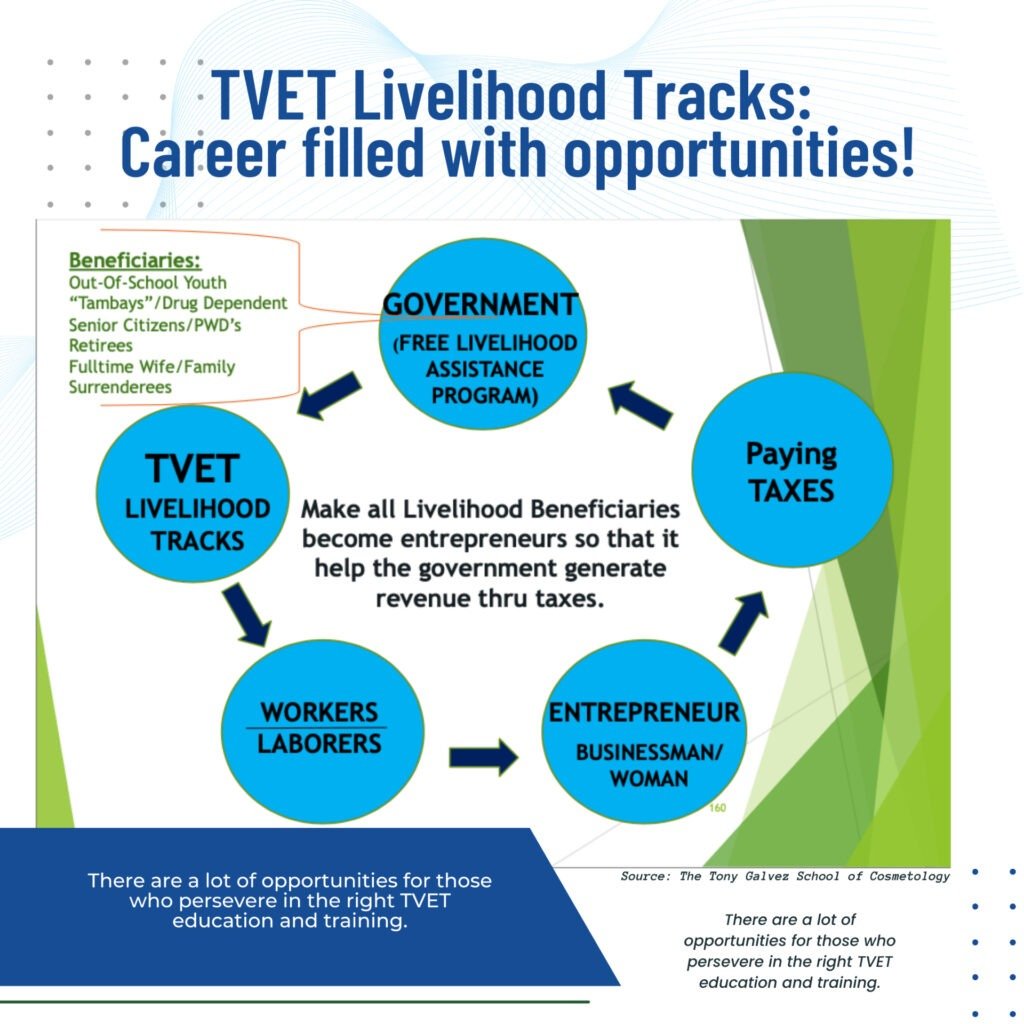 In the Philippines, the two main agencies tasked with providing basic education in the country are DepEd, or Department of Education for the academics, and TESDA which stands for Technical Education and Skills Development Authority, which is mandated to provide direction, policies, programs, and standards towards quality technical education and skills development.
The two bodies should complement each other so that there will be no overlapping of roles that could create conflicts in the implementation of their programs.
However, it seems that the curriculum of these two bodies has created some challenges for both of them. Ever since the K-12 curriculum has been implemented, DepEd has gotten some resources from TESDA because the tech-voc curriculum should be handled by experts in the technical field and not by a regular teacher. So this phenomenon, which was unseen as the would-be effect of the K-12, needs to be resolved.
Give TESDA Free Rein
TESDA should be given complete responsibility by the government for technical and vocational training, a separate agency from DOLE, DTI, and DepEd. However, TESDA needs to go beyond providing instructions and training. Skills assessment should be thorough and must meet globally-competitive criteria.
And lastly, granting professional licenses to successful graduates would give them the recognition that would elevate their status from merely a tech-voc graduate into a professional practitioner of their chosen skill. Possessing a license gives graduates a sense of pride and
achievement.
Licensing should be the goal that each tech-voc graduate must aim for because acquiring a license would give them a right to demand a higher salary and compensation for their services. And most of all, they can be on par with the technical graduates of progressive countries.
The licensure tests is the final ''quality control'' check before tech-voc graduates are allowed to practice a profession which depends on the lives of people or safety of buildings like carpenters, cosmetology and culinary graduates among many other service-oriented fields.
Licensure examination is but one wheel in the big cog of the Philippine Qualifications Framework. The said framework supposedly sets multiple criteria that measure quality assurance principles and standards of the Filipino professional, technician, and craftsman.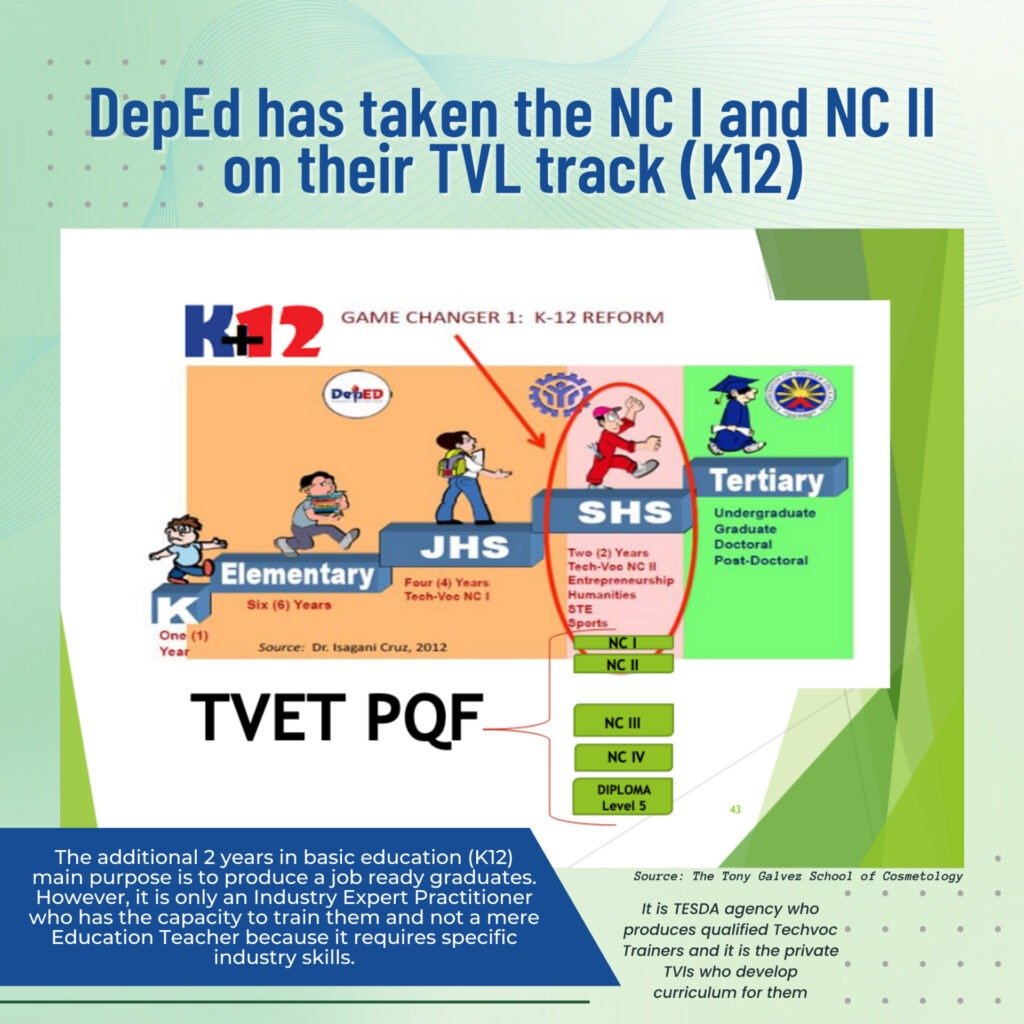 Performing this mandate would mean for TESDA to do a much-needed review of its services and offers. What could TESDA offer to their future enrollees to attract more of them in the future and for TESDA to be an effective arm of the government for manpower development?
Reshaping Tech-Voc
It is proposed that the tech-voc curriculum is on two tracks: meaning the courses offered will be either service-oriented or product-oriented.
These two classifications will serve different purposes and will be monitored differently as well;
Product-Oriented Tracks
No prequisite
Only product quality control
Do not require higher academic achievement
This is measured only through quality contril
Service-Oriented Tracks
Pre-requisite: HS graduate
Customer and Pratitioner's Protection Service
Service-Oriented professions are measure by quality of service thru customer satisfaction
It promotes respect, prestige, and protection to the client and also the practitioner
Product-oriented tracks are designed to alleviate poverty and provide income-generating projects to barangay folks like stay-at-home moms, out-of-school youths, drug dependents, seniors/retirees, jobless folks, and surrenderees. Some of these product-oriented tracks are called cottage industries and can be done in the backyard or a factory for SMEs. Some of these are: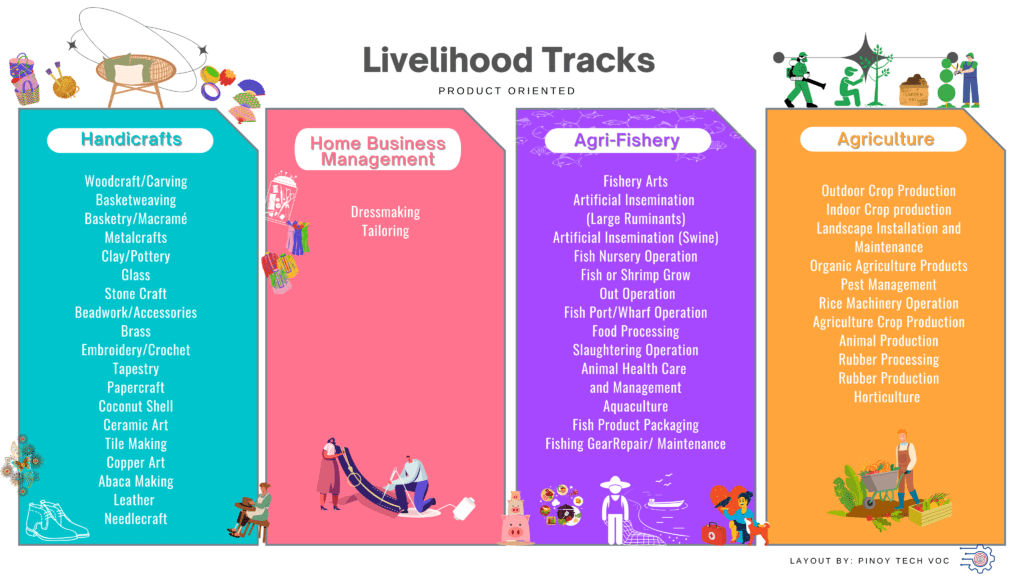 The training package for this track must include:
Salesmanship/Entrepreneurship, managerial, marketing and bookkeeping. These livelihood trainings are best for barangays and provincial training through Barangay Kasanayan para sa kabuhayan at kapayapaan (BKKK) set by TESDA. TESDA will also provide the necessary tools and materials as well as equipment for this skill training.
The Service-Oriented Sectors/industries are the following:
The above mentioned are all professional tracks and require a high school diploma as a basic requirement. Tech-voc service-oriented profession is not just a simple trade and all service-oriented tracks will be identified by specific specialization based on the industry qualification.
"Kaya ang Build, Build, Build, medyo atrasado ng konti. Walang trabahante. We are lacking in experts in carpentry, welding, and other technical skills. We have a lot of jobless because they are not qualified even in vocational, especially construction."

President Rodrigo expressed in one of his speeches.
As of now, joblessness and lack of experts in vocational and technical skills is a big concern, but if TESDA will be given free rein, TESDA can perform its main mandate faster and more efficiently.
In the COVID-19 recovery phase, there are opportunities for smart investment in tech-voc education and training to "build back better" programs and systems. Tech-voc may be able to cater to students who dropped out during school closures and reskilling or upskilling those who have become unemployed.
Tech-voc can also facilitate the development of skills necessary for the adjustment to structural changes brought on by the COVID-19 pandemic. Continued focus on ensuring the acquisition and development of foundational cognitive and socioemotional skills, such as empathy and resilience, which have become increasingly valued in the current circumstances, will improve employability and other human development outcomes for tech-voc students.
Moreover, investment in learning technology and digital skills of tech-voc instructors and students can ensure lifelong access to learning opportunities and future workforce adaptability.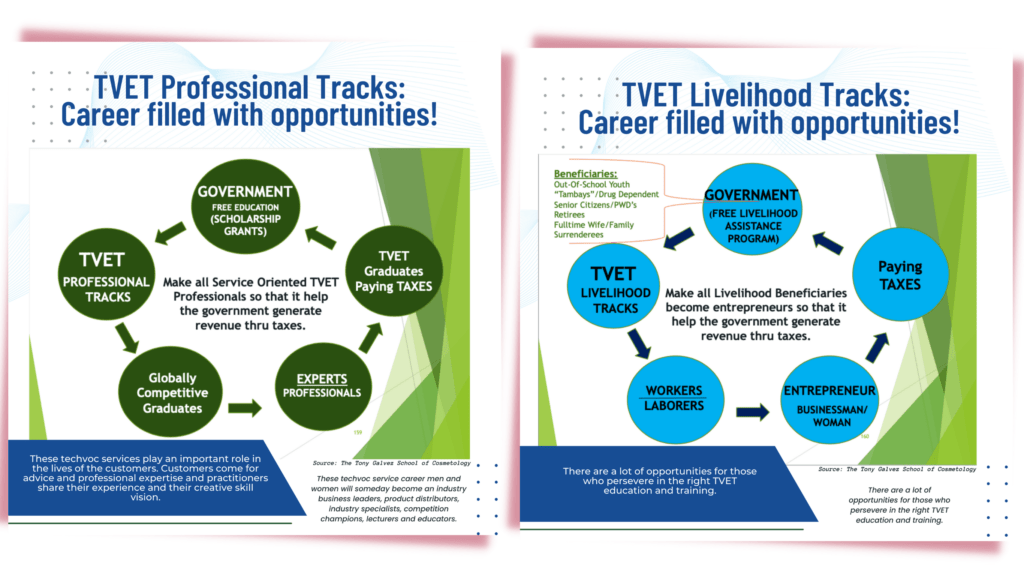 To conclude, if our TVETs follow global standards and are just competitive with that our Asian neighbors, there will be fewer OFWs because TVET graduates can establish their businesses and can get better-paying jobs locally.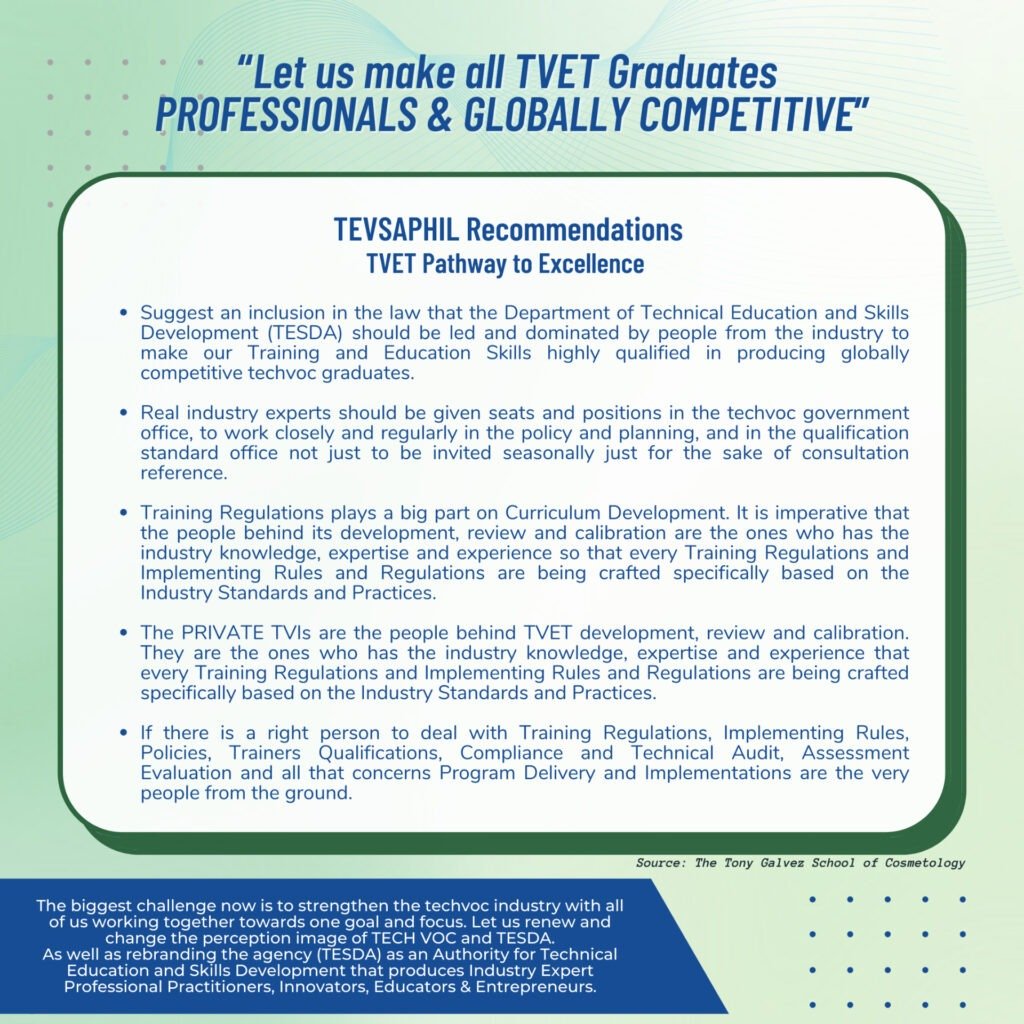 TESDA should be independent of other government agencies in terms of providing technical-vocational training and education. However, other agencies can complement because agencies like DepEd, help in the basic education of children, while DOLE and DTI assist in the employment and livelihood programs respectively.
Good, high-paying jobs await qualified tech-voc grads. If only they're given proper incentives, multisectoral support, and a supportive policy environment, the tech-voc track can also be a viable alternative for young Filipinos who wish to lead productive lives.
We may still have a long way toward strengthening our tech-voc ecosystem in the country, but with a little help and support from the government, industry, and academe, we are making crucial inroads that lay the foundation for the future. As we promote tech-voc to the youth to undergo tech-voc training, we hope that tech-voc professionalism and licensing will soon be implemented as well.
And hopefully, in the coming years and decades, the state of tech-voc education in the Philippines would further be improved so that when we ask Filipino children what they want to be when they grow up, we hope many of them will also answer that they would want to take the tech-voc path and become a carpenter, a forklift driver or a farming technician. And by then, these children would no longer be laughed at or looked down with the career choices they've made.
You May Also Like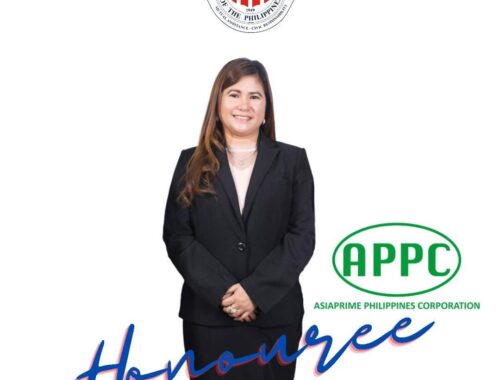 June 22, 2021