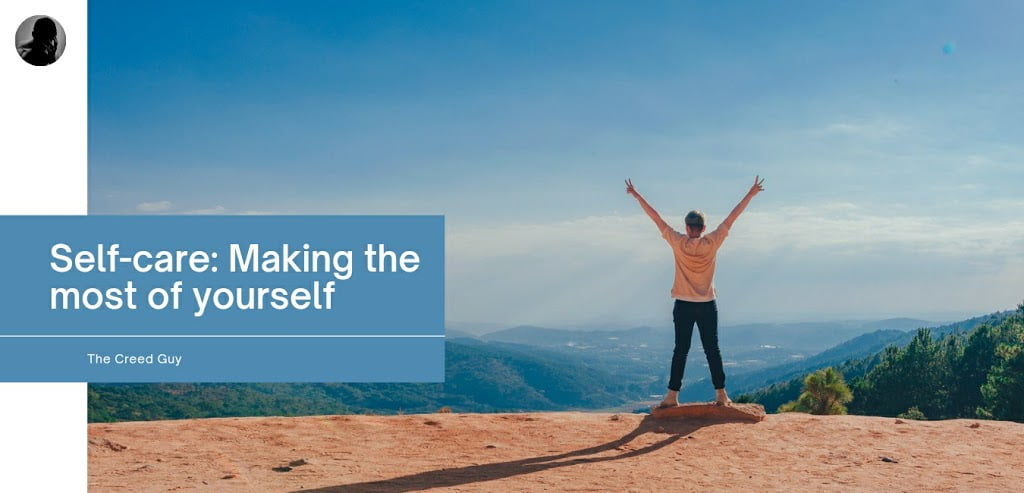 Self-care: Making the most of yourself
February 2, 2021
It's all right to be responsible and to work hard on a lot of things. It's all right to worry, and sometimes not to be decent. But not having a self-care is not a healthy thing.
Self-care is an essential part of our adult life approach. As we get older, we have more and more diversified and dynamic roles. It is getting difficult to play the roles. So many things can be done—like family matters, personal challenges, relationship building, health issues and even coping with our ideas and emotions. All or some of the scenarios above, or worse, are some of the things with which most of us actually could deal with.
Things often go beyond our ability to manage physical, emotional, and psychological challenges that are normal due to human weaknesses and deficiencies.
We seem to feel anxious, hopeless, or depressed when we are at the height of our challenges. And sometimes, when dealing with these issues, we feel disconnected, because not everyone can pay attention to the things we're going through, not even the closest individuals around us.
There are many aspects beyond our control, but you can control yourself on the positive side. You're going to do a great favor yourself, and this is through self-care. This doesn't mean selfishness, but only good self-care. It's best to take care of yourself before paying attention and caring for others. You need more of yourself than anyone else, and no one can take better care of you than yourself, always keep that in mind.
Some of the ways and advantages that you can do self-care;
1. Being attentive
The primary objective of self-care is to ensure your well-being. That's why you need to know the state of your physical, emotional and mental health. Check to see signs of trouble at all times. Not all problems or unpleasant circumstances take place at the same time. Stop overwork and burn out.
If you think your issues are going to escalate to a degree that will adversely affect you, pause and think. Be present and study your own self to understand your flaws and weaknesses and to see your strengths. This will going to motivate you to do what you're doing.
Attention leads to stress reduction, and performance enhancement. You will gain new perspectives and knowledge of yourself and your surroundings by realizing your own physical, mental and emotional circumstances.
2. Relieve yourself and relax
Don't be too hard on yourself. Take a break and relax when you feel uncomfortable. Do your relaxing activities. Do what would make you happy.
If nature offers you a nice feeling, then go for a walk and sit in the park or view the beautiful nature that surrounds you. Or get a nice meal when it provides you with warmth.
If you see a good netflix series refresh your mind, have a marathon and watch all the episodes. If you feel comfortable reading, grab your favorite book and read it. Or take a stroll around the mall, supermarket or try window shopping to modify your atmosphere.
Or perhaps you just need a long deep sleep, sleep and forget the world for a while, and when you wake up, your mind and body will appreciate you.
You're not going to be spoiled, that doesn't imply. Doing self-care means having a decent treat, because you worked hard and had a lot of problems to deal with, and maybe that's why you didn't work well. As human beings, we are bound by our abilities, resources and, if we are exhausted, affect our decision-making and our success every day, so that we need to refresh our daily activities once in a while.
When you are calm, you have a clear mind and you can gain new insights and consider your situation, which is hard to do when you've got so much absorption.
3. Cultivate Gratitude
We get too stressful sometimes because we concentrate too much on our problems. Try pausing and counting your good things for a moment. See the bright side of the scenario or the silver lining. While you have a complicated or troublesome situation, we still have a lot to thank.
You may be sleeping in the morning worrying about your issues, but you have yet another day to make things better. You may have problems at work, but you still fortunate because you have a job and a lot of people have to struggle with unemployment. The food you serve on your dinner table, decent clothing, the good health you have, and you should be grateful for so many things. Since not everyone has an opportunity now to appreciate the items that are both material and non-material.
We often forget these little things that really allow us to do great things.
Always practice being great about all the things you've got or have happened to you. Because you are going to have a positive effect on your life. You open your eyes to the wounded side of your state. Normally, when you focus so much on your problems or things you don't have, you have more resources and opportunities. Take care of the good things, and you're going to have more good things.
4. Get Moving
Keep engaged physically. When you can, work out or practice daily. There are several moderate to vigorous physical activities to fulfill your physical requirements, your fitness and your age. And being physically active doesn't just mean exercise, just getting around the workplace and at home, like cleaning, clothes, gardening, escalation and the like.
Good health is promoted by physical activity. Being physically active increases your fitness, weight, strength of bone and muscle, and your capacity to do everyday work. You can feel more vigorous and alive.
5. Talk to yourself
A lot of people do not share or open to others; they hold their own issues and challenges. And that's cool, don't do it if it makes it difficult to share with people. But you can talk in ways you can, at least. Don't let everything around you accumulate. Find ways to channel it, as you might burst out of rage and wrath one day.
Many forms of expressing yourself will help you deal with your thoughts and feelings. Others speak of their feelings and emotions in an artist's way, such as drawing, painting, scrapbooking or plays instruments; others communicate their tension in playing or watching, eating foods, gardening or much more through writing, blogging or journaling. You should channel what you are experiencing limitless. And you can keep exploring and learning something different. Do the best to you.
Speaking means liberating yourself. During the process, it will help you understand yourself more. You can be inspired by yourself. It will help you develop a more profound and meaningful relationship with yourself and your people.
6. Hang with the right people
Connect with people who are optimistic and who make you feel better. Living with toxic people is already exhausting and short. Keep away from people who cause you too much trouble and heartburn, or remain in contact with people who better handle you and make you feel better.
There are positive vibrations among positive people. Talk to individuals with a constructive life view, always nice things to say, irrespective of the situation. They will help you see that even though things get worse, things still have to be appreciated. Get along to people who make you feel happier and laughing, happy and relieving.
They could be your family, a neighbor, a co-worker. Stay linked, especially if you get a good atmosphere. Or let them know how related you feel with them. It feels amazing to affect someone's life so much. And maybe you will have the same consequences. You help each other that's how you help each other.
7. Cap for News Media
It is good to keep everything around us up to date so that we are conscious of and aware about different circumstances, especially the social media, now used as an important information source. However, too much news and information, particularly negative, are sometimes intoxicating.
Breaks from the news will distract you less. It can reduce the adverse effects on your mind of mood, feeling, and deeds. You should listen to the other good things which don't show in the media around you, see and learn more.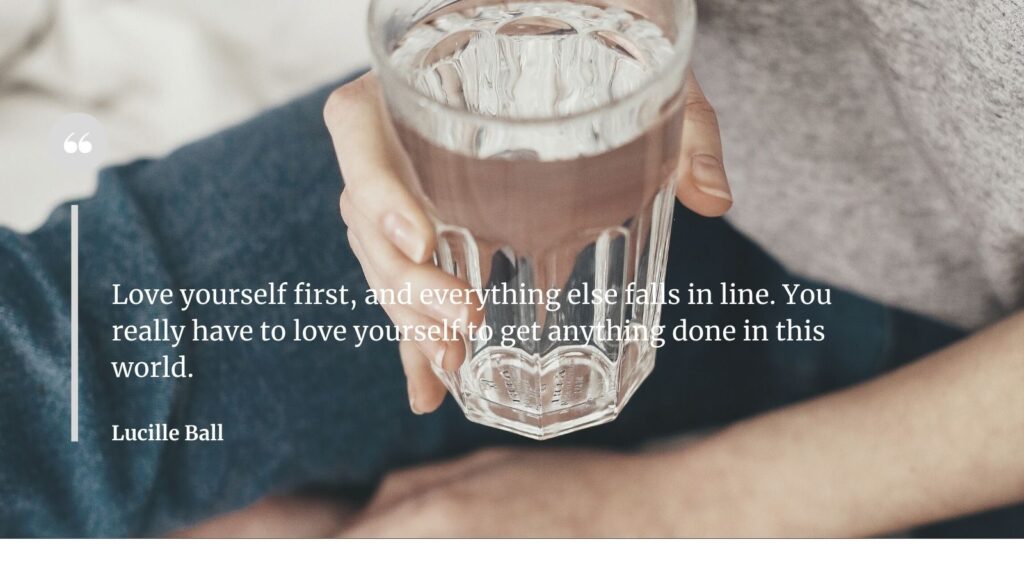 Self-care for yourself is a true luxury. You are offering yourself space for reflection, positivity and positive vibes in the center of your challenges and difficulties. It allows you to deal more easily with negative feelings and personal fights.
Not just you but those around you benefit from self-care. You will even help look after others and the surroundings if you know how to take care of yourself. You would have a clearer understanding of yourself and others and a better experience.
Make daily self-care and see how it positively changes you.
Disclaimer: All information is for information purposes only. The materials contained in this article shall not substitute clinical advice, diagnosis, medical care or therapy. Do not neglect psychological or medical advice or pause in obtaining advice or care because you have read something on this page. Please read our complete disclaimer.
You May Also Like
December 13, 2022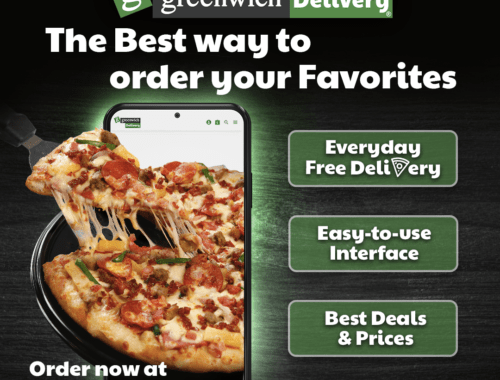 September 21, 2023