Get a Zit Free skin with Thursday Plantation
January 26, 2022
Pimples are one of the problems that teenagers face. They are caused by overactive oil glands in the skin, as well as a buildup of oil, dead skin cells, and bacteria, which causes inflammation (swelling and redness) in the pores. This usually happens during the puberty stage when their hormones change.
However, adults can get a pimple, which is known as adult acne, or post-adolescent acne, which is caused by the same factor as teenagers. Which is caused by excess oil production, pores becoming clogged by "sticky" skin cells, bacteria, and inflammation.
That being said, there is a saying that prevention is better than cure, which means that you can use products that will immediately effectively treat pimples.
Thursday Plantation, for instance, is one of the best Australian skincare brands known for its tea tree oil, which is now available in the Philippines. That provides a diverse range of health and beauty products derived from nature's oils to restore skin to its healthiest state.
This article will highlight some of the Thursday Plantation products that could complete your daily skincare in preventing and treating pimples.
Tea Tree Soap
A mild bar soap that can be used to clean the face, body, and hands. This product is made with 99 percent naturally derived ingredients and is ideal for removing oil and dirt buildup. Besides that, it has the great promise to cleanse and purify all skin types.
Tea Tree Daily Face Cleanser
A daily facial cleanser that harnesses the antibacterial power of tea tree oil to gently remove excess sebum, dirt, and makeup. It contains soothing chamomile, which may leave your skin feeling calm and soothed after use.
Tea Tree & Witch Hazel Toner
This combines the purifying properties of tea tree oil with the toning benefits of witch hazel to purify the skin and tighten pores without over-drying. It is free of Benzoyl peroxide and alcohol, which are two ingredients that can irritate and dry out the skin.
Tea Tree Oil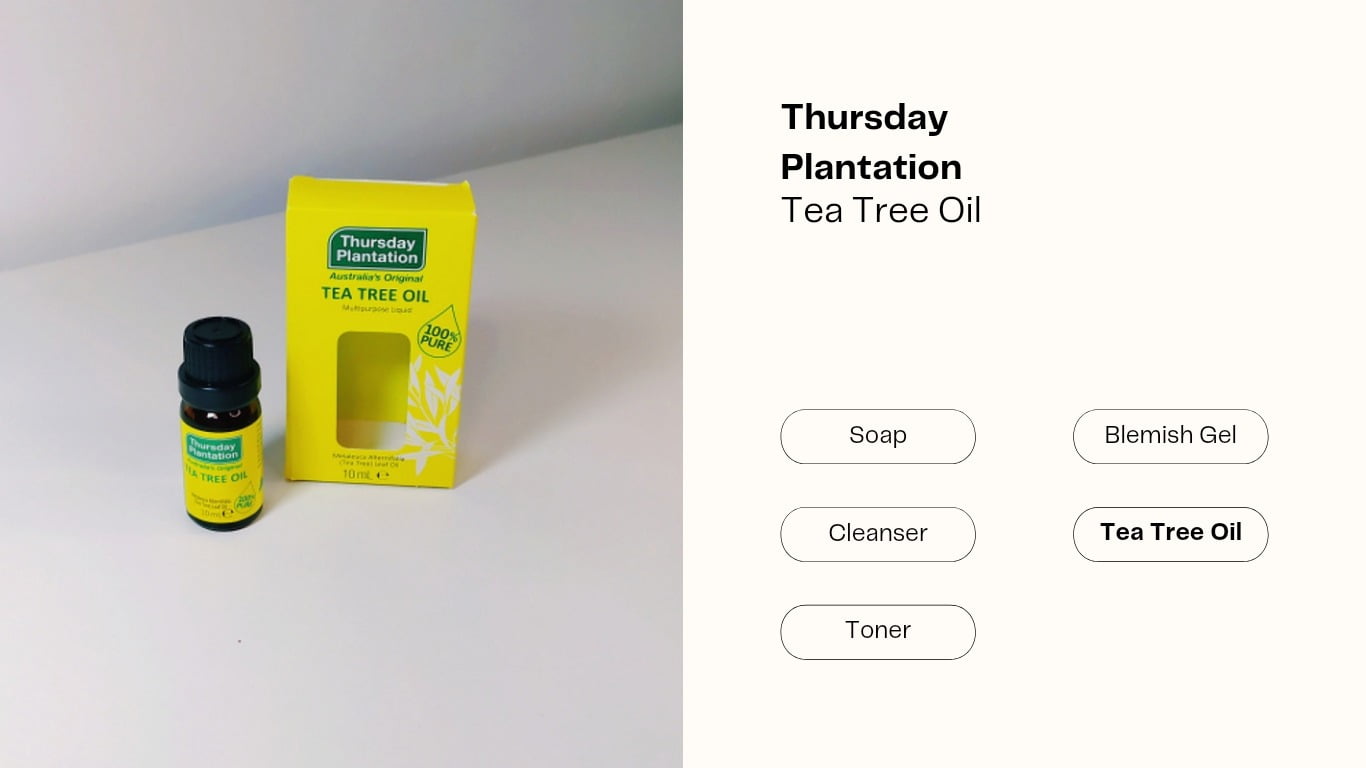 A strong antiseptic that inhibits a wide range of bacteria and fungi while also cleansing and protecting skin abrasions. Healthy skin tissue tolerates tea tree oil well, and it does not inhibit normal cell growth.
Can be used to treat acne, fungal infections, minor cuts, burns, abrasions, boils, bites, and stings. And it can dry out pimples for up to a day after application.
Tea Tree Blemish Gel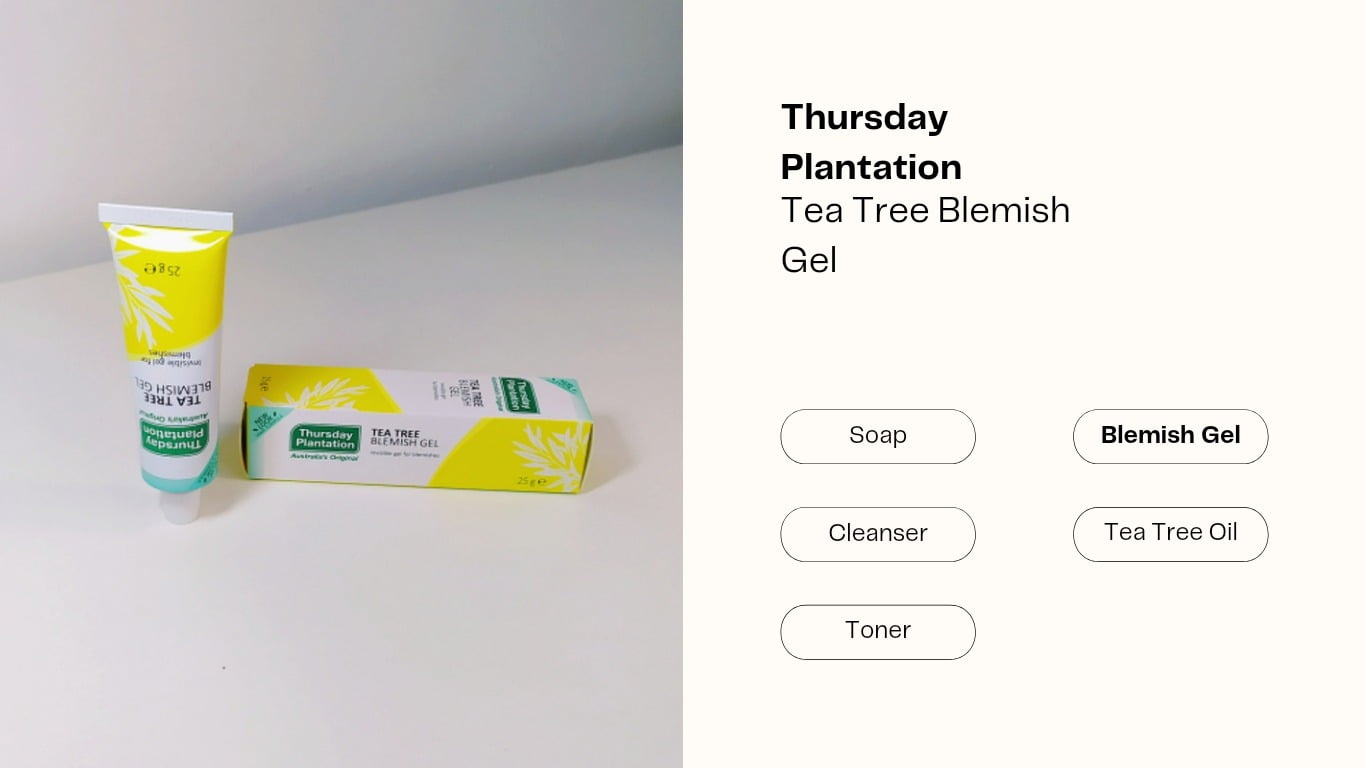 It is an invisible treatment gel that penetrates the skin to help dry out acne and pimples. Ideal for whiteheads, blackheads, pimples, and acne.
Free of synthetic parabens, mineral oils, propylene glycol, lauryl sulfates, synthetic fragrances, synthetic colors, synthetic preservatives, and animal-derived ingredients.
And those are some of the Thursday Plantation products that could round out your daily skincare routine to achieve zit-free skin and early pimple prevention. But, when trying and applying the product to your skin, always get a small amount of the formula and apply it to your skin for a few minutes to see if you are allergic to it. Also, consult your dermatologist to see if it is safe to use on you.
It is available at Watson stores and websites, as well as on e-commerce sites such as Shopee and Lazada.
Related article:
• What is Niacinamide and its benefits to our skin?
• What does a man needs for a successful skin care
• Why should men take care of their skin, too?
Disclaimer: All information is for information purposes only. The materials contained in this article shall not substitute clinical advice, diagnosis, medical care or therapy. Do not neglect psychological or medical advice or pause in obtaining advice or care because you have read something on this article. Please read our complete disclaimer.
You May Also Like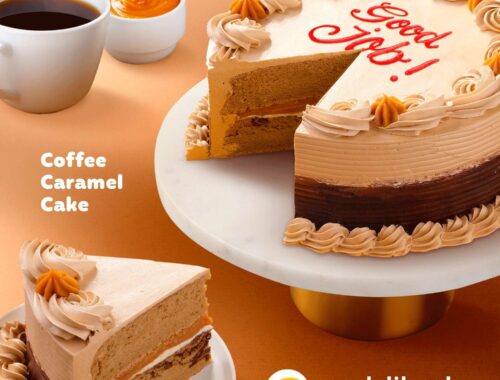 October 10, 2022