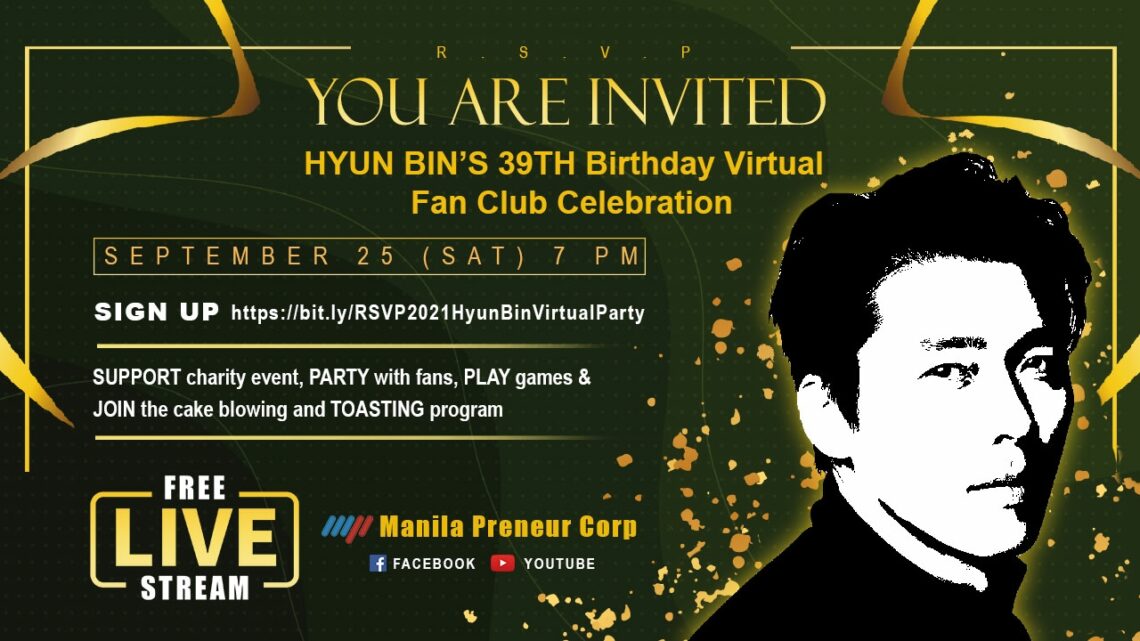 Hyun Bin PH will celebrate the actor's 39th birthday with a virtual fan club celebration
September 19, 2021
The excitement among Filipino fans of Crash Landing on You's Capt Ri, played by Korean Heartthrob Hyun Bin, who will turn 39 on September 25th, 2021.
The BINNIANS (as the fan club members are known) have planned a grand plan to celebrate the actor's birthday. Fangirling for some followers is seriously taken on the onset. Cherry Saculo-Genato CEO of Manila Preneur Corp (MPC), an Integrated Marketing Company that will support the 2021 Birthday Project of the Hyun Bin Philippine Fan Club (HBPFC).
In 2020, the HBPFC Club has taken numerous spotlights about Hyun Bin's Birthday. Not only was their proudly Filipino-made Craft Beer – "Hyun Bin Beer" brewed by the 4th Largest brewery in the Philippines a top search for both local & international sources when it came to gifts given to the Actor. Their events were acknowledged by Fangirl celebrities like the Megastar Ms. Sharon Cuneta & Ms. Charo Santos-Concio.
"I was really worried at the start because I have to think of something greater or equally great with what we did last year. Deciding as to what gift to give the actor is not the only preparation needed, I wanted to create history. I like the projects to be remembered and only the fans can tell whether a certain event leaves a lasting impression on them."

Cherry S. Genato of MPC & HBPFC.
The support given by MPC enabled the HBPFC to bring the 4 popular characters of Hyun Bin in his past Kdramas to be remembered in a drinking experience that will take place on his birthday. The Hyun Bin Beer 2021 presents the following Craft Beer Styles:
1. SESSION ALE as CAPT Ri of "Crash Landing on You" presents an easy-drinking Pale Ale full of flavor, ideal for kicking back with friends.
2. SUMMER ALE as ROBIN of "Hyde Jekyll Me" is crisp, clean, and flavourful any time of the day.
3. WHEAT ALE as KIM JOO WON of "Secret Garden" is brewed using locally sourced dalandan to bring it the citrus fresh finish.
4. STRONG ALE as MIN TAE-GUN of "The Negotiation" is a robust malty body with a subtle fruity undercurrent slightly dry finish. Only for the Bold.
"I doubt if any other groups/fan club can come up with such a concept when it comes to a Birthday Celebration. Of course, when there's a party, there's booze. Not only are we serving any beer, but we have brewed a flight of Craft Beer to make this Virtual Party a blast!", says Genato, the HBPFC Director and Event Organizer of the Philippine Craft Beer Community. So what do fans know about 2021 Hyun Bin Birthday Preparations?
This year follows a theme of the top 3 Elements people do when they think of birthdays, to add more interpretation, Cherry placed meaning on the numbers "3" and "9" since Hyun Bin is turning 39. So the 3 Things are: Gift, Party, and Share the Joy.
HBPFC recently sent a Gift Box to Vast Agency for Hyun Bin, which contained 9 items for the first element– the GIFT.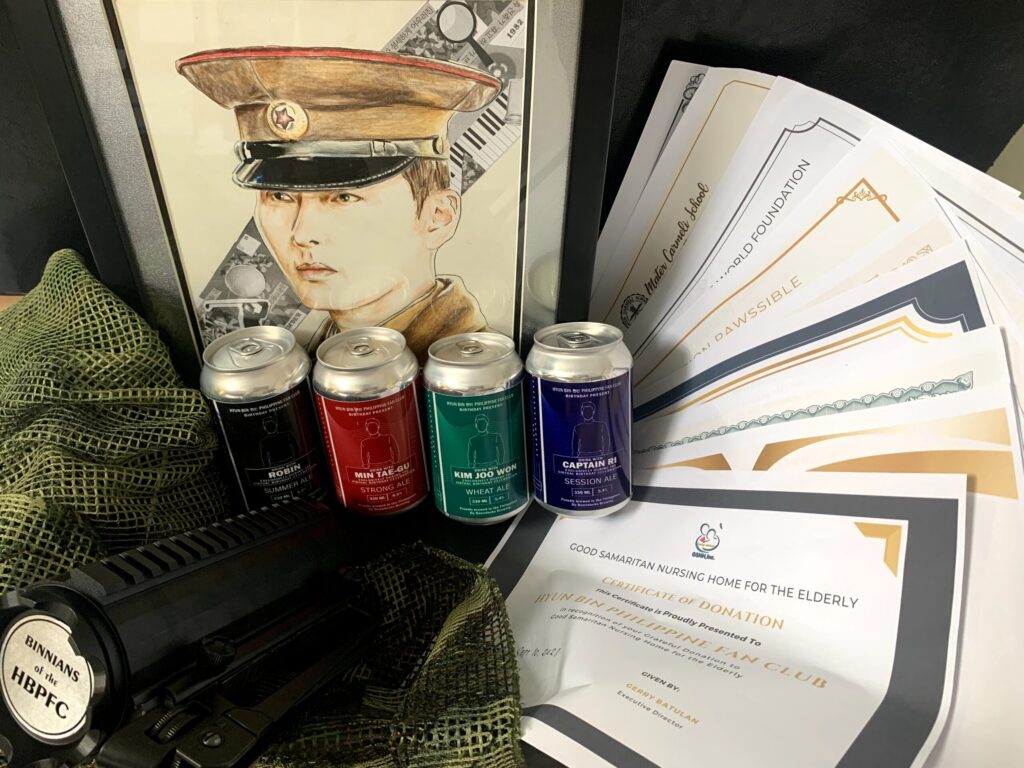 The first item is a Battle Mug made by a Military Veteran shop in another country that runs this business to support retired military officers and first respondents globally.
The battle mug is a solid 10+ lb block of T-6 Billet aluminum that went to lengthy stages of careful machining before a final military-grade anodization process. It is real deal firearm quality. Perfect for a Captain's use. Engraved on this collectible piece are the words "BINNIANS of the HBPFC" on the bottom and "Hyun Bin Beer 2021" on the handle.
The second to fifth items are all four (4) Hyun Bin Beer styles.
The sixth item is the Hyun Bin Beer Pilsner Glass.
The seventh item is a Mixed Media Image Portrait of Capt. It was made by Filipino Visual Artist Clint Catalan. The medium artwork includes a collage cut out of everything about Hyun Bin as an actor, such as his sports hobby of golf, his childhood dream of becoming a detective, and his role in the film as Captain Ri.- camouflage and piano keyboards.
The 8th is a compilation of all 9 Certificates of Donation to show Hyun Bin how fans look up to him as their inspiration in doing good deeds for others.
The ninth item is the Fanclub fanzine, which will compile all of the Birthday Celebration memories into one book that will also serve as a souvenir for the fans.
For the 2nd Element – PARTY, fans will gather for a Live Stream on September 25th to have fun. Everyone can watch it for free at the Manila Preneur Corp., facebook page. Here VIP "Ninang" fans play games, they will showcase 9 customed-cake collections & 9 toast wishers of Hyun Bin Beer.
For the third element – SHARE THE JOY in the form of a Party Loot bag containing Essential Grocery Items to 9 different charity beneficiaries representing various sectors of society such as:
1. Children – orphanage Meritxell Children's World Foundation.
2. Women – Women's Care Center, Inc.
3. PWD – Pambansang Kapisanan ng mga May Kapansanan ng Pilipinas, Inc
4. Seniors – Good Samaritan Nursing Home for the Elderly
5. Church – Our lady of Miraculous Medal
6. Education – Mater Carmeli School
7. Blind – Philippine Blind Union Inc.
8. Sick – Hydrocephalus Foundation of the Philippines Inc.
9. Animals/ Environment – Mission PAWSsible
"I want this 2021 birthday celebration for Hyun Bin to be special, I would like to attract more fangirls to join the HBPFC. I want them to experience a different fangirling event, they can tell the difference for sure," added Cherry Saculo, Director of HBPFC & CEO of MPC.
If you have not yet registered for the Virtual Party Event, kindly do so by clicking on the following link: RSVP To VIRTUAL PARTY.
Visit the Facebook pages to know more about the HBPFC and Manila Preneur Corporation.


You May Also Like