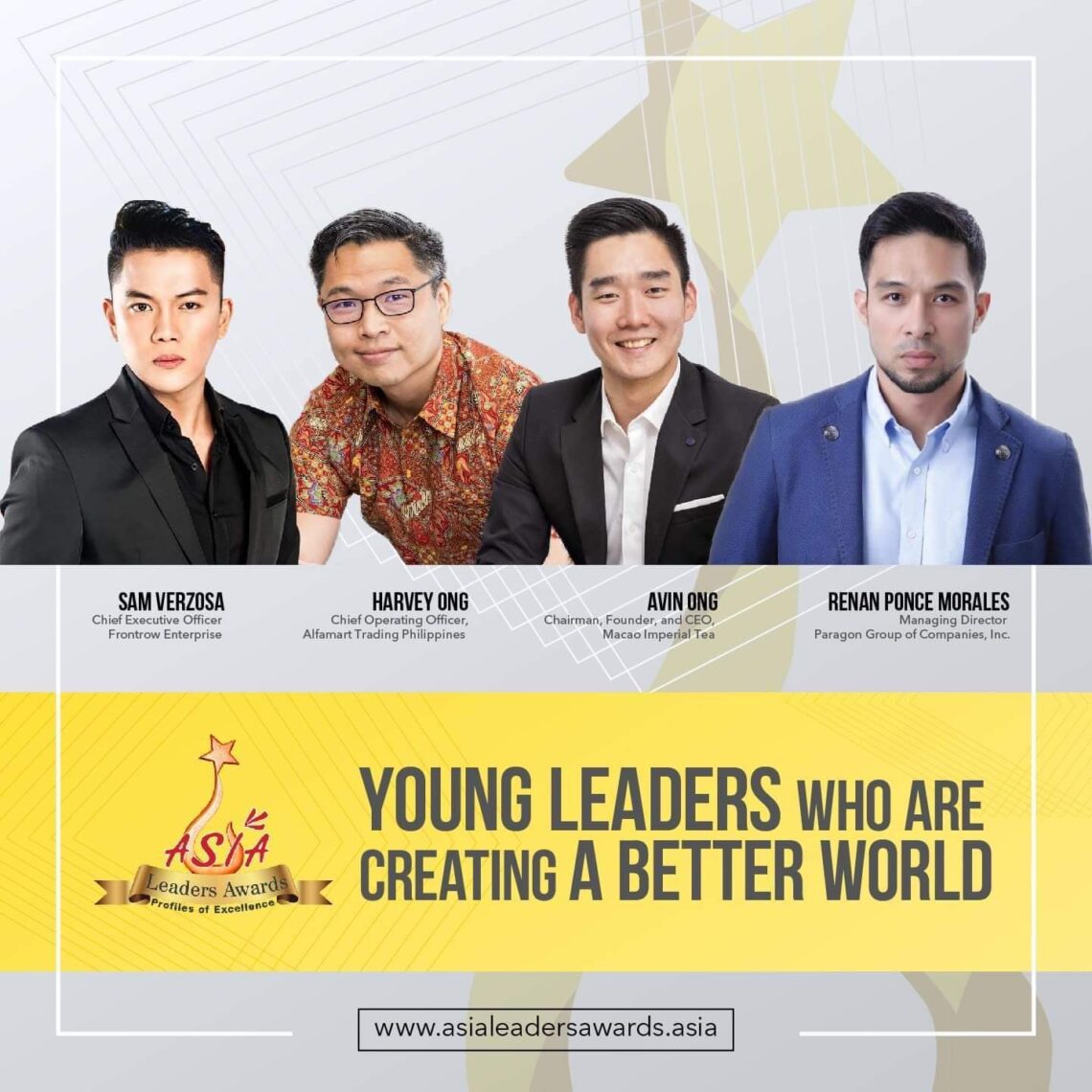 Asia Leaders Awards: Young Leaders Who Are Creating A Better World
May 5, 2021
We became more human as a result of the global health crisis. That our bodies have limitations, whereas our minds are limitless in this time when we saw new leaders who are not only determined, fierce, and aggressive but also have a heart for giving, as demonstrated by the founder of a community pantry on Magingawa Street in Quezon City, which is now being emulated by hundreds of young leaders across the country.
The Asia Leaders Awards recognize four young leaders from various industries who are currently breaking the glass ceiling. These individuals are innovators even at such a young age. And all of them have been nominated for the Asia Leaders Awards 2021, which aim to recognize honorable men and women who promote the Philippines as the premier business hub in Asia and beyond, who demonstrate leadership not only to their peers but also to the country's and beyond's problems, and who have indicated an outstanding achievement for the welfare of others, including public service.
Alfamart opened its first store in the Philippines in 2014, with only 200 stores. It is a partnership between Alfamart Indonesia and SM Retail. As COO, Harvey now oversees over 1000 branches nationwide, with annual revenue of USD 350 million, making it the Philippines' fastest-growing retail chain.
Furthermore, AlfaMart provides bill payment and ATM access in select AlfaMart locations, allowing them to serve as a one-stop-shop for customers.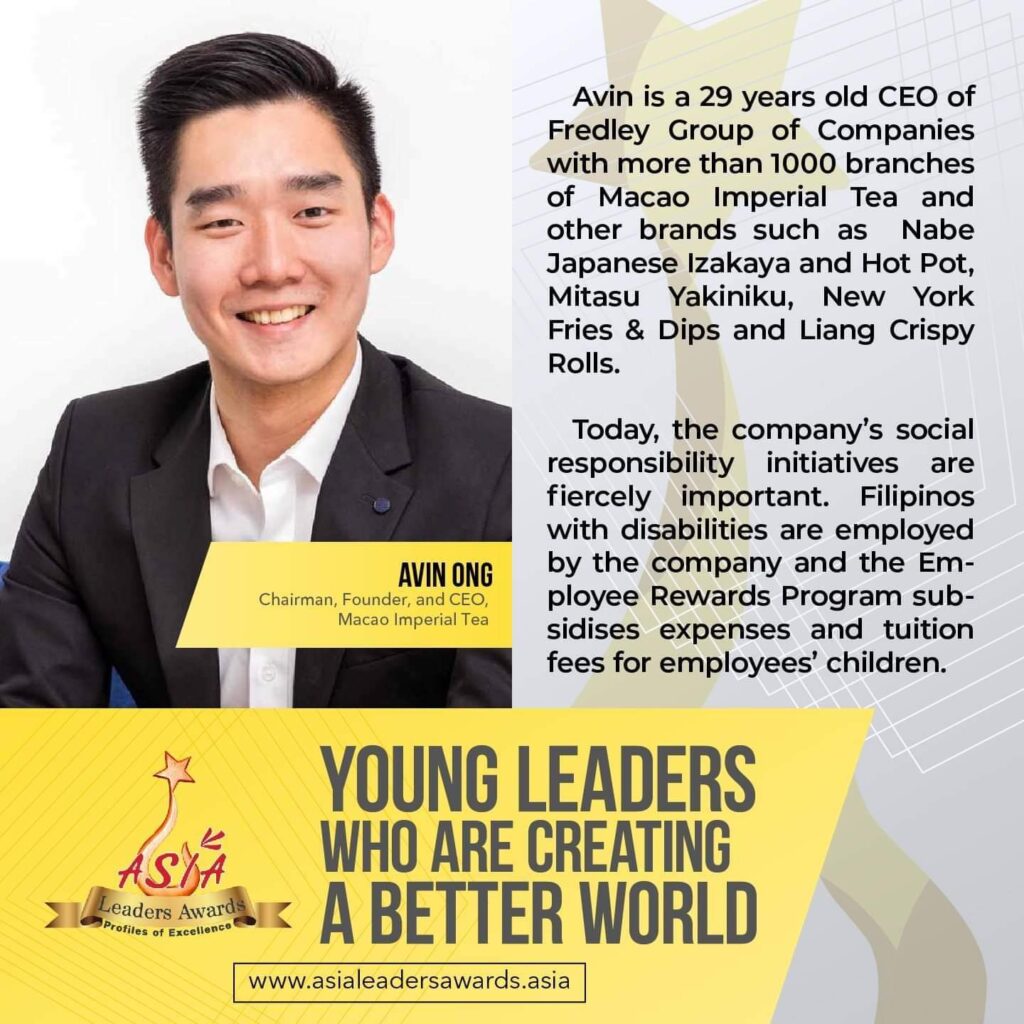 Avin is the 29-year-old CEO of the Fredley Group of Companies, which operates over 1000 Macao Imperial Tea locations and other brands such as Nabe Japanese Izakaya and Hot Pot, Mitasu Yakiniku, New York Fries & Dips, and Liang Crispy Rolls.
Today, the company's social responsibility initiatives are crucial. The company employs Filipinos with disabilities, and the Employee Rewards Program covers expenses and tuition fees for employees' children.
For this Pandemic alone, Frontrow Enterprise donated more than Php 100 million to help Frontliners and indigents, not to mention the opening of E Eskwela with computer units to be used by the marginalized in various neighborhoods across the country through Frontrow Cares.
An award-winning entrepreneur with 1.2 million distributors worldwide. Despite the challenges posed by the global health crisis, Sam continues to help others.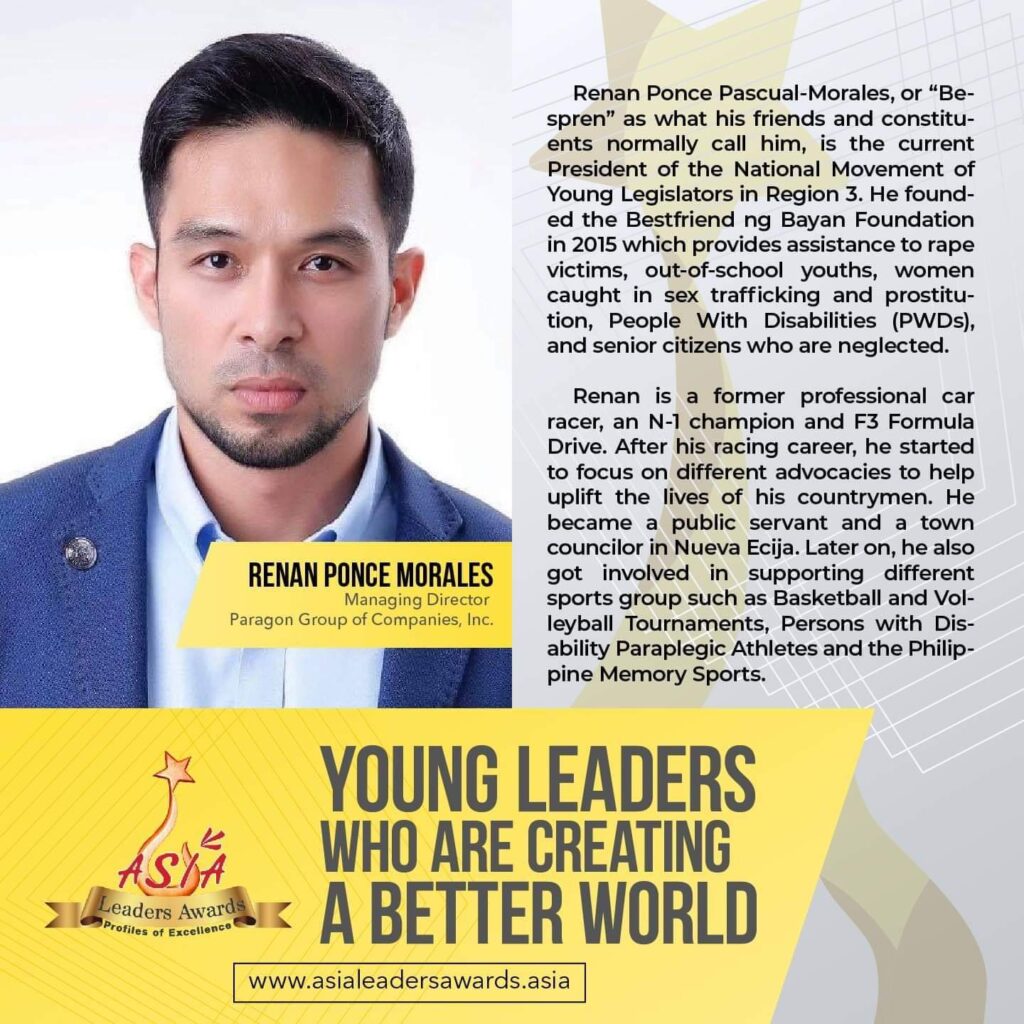 Renan Ponce Pascual-Morales, also known as "Bespren" by his friends and constituents, is the current President of the National Movement of Young Legislators in Region 3. In 2015, he established the Bestfriend ng Bayan Foundation, which assists rape victims, out-of-school youths, and women caught up in sex trafficking and prostitution, People With Disabilities (PWDs), and older people are neglected.
Renan is a former professional car racer who has won the N-1 championship and the F3 Formula Drive. Following his racing career, he began to focus on various advocacies to help improve the lives of his countrymen. In Nueva Ecija, he became a public servant and a town councilor. Later on, he became involved in supporting various sports groups such as Basketball and Volleyball Tournaments, Paraplegic Athletes with Disabilities, and Philippine Memory Sports.
These young leaders are creative, innovative, and fearless, with a desire to succeed in business and helping people. Young leaders were deserving of our admiration.
More information can be found at:
Related articles:
Asia Leaders Awards Cocktail Hour: The lighter side of success
You May Also Like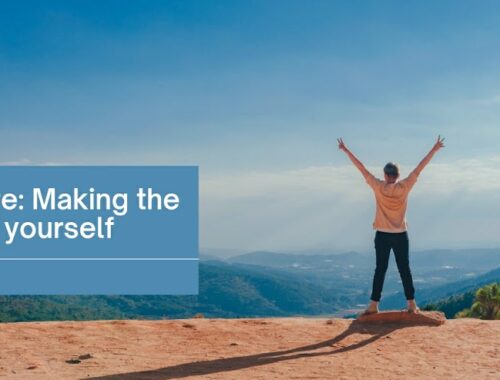 February 2, 2021