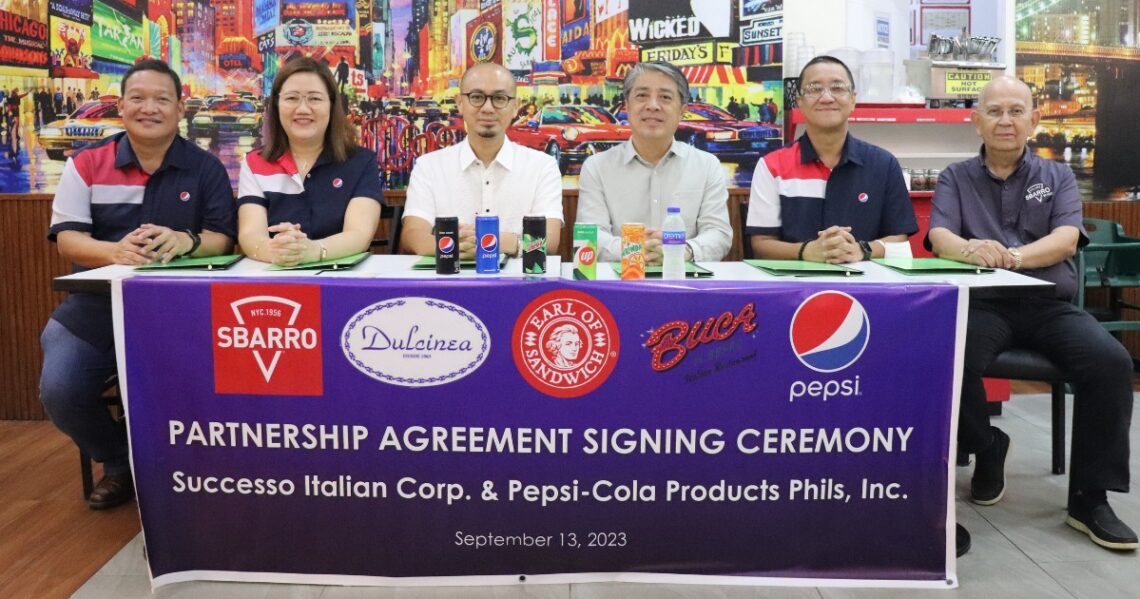 Pepsi-Cola Products Philippines, Inc. strengthens ties with Successo Italian Corporation
October 13, 2023
More customers can now look forward to enjoying well-loved beverage brands like Pepsi, Mountain Dew, 7-Up, Mug Root Beer, Mirinda, and Premier Purified Water as Pepsi-Cola Products Philippines, Inc. (PCPPI), the country's exclusive manufacturer and distributor of PepsiCo beverages in the country, recently renewed its partnership with Successo Italian Corporation.
The well-loved dining group is best known for operating restaurants such as Sbarro, Dulcinea (or Café Dulcinea), Earl of Sandwich, and Buca di Peppo. Foodies favoring hearty, delicious, and freshly prepared Italian cuisine can look forward to pairing their favorites with any PCPPI beverages until 2026. 
Of the partnership, PCPPI's Chief Commercial Officer Lyndon Cuadra said, "We are committed to supporting Successo Italian Corporation as they continue to grow their business and expand their operations across the country. PCPPI is looking forward to more years of fruitful collaboration and bringing together more people with great food and refreshing drinks."
For more information on PCPPI, please visit www.pepsiphilippines.com. 
You might be interested in reading this related article;
You May Also Like
November 8, 2020
December 8, 2020
January 22, 2023