Newly Launched POCO M3 | Price and Specifications
November 27, 2020
Mobile Phones are used extensively in our everyday lives, allowing us the ability to communicate everywhere. The latest mobile phones like the newly launched POCO M3 are a success among all groups, from children to adolescents to adults and allow them to experience a highly technological lifestyle. These phones are design statements and offer your profile an advanced touch.
It is now one of the greatest inventions with a variety of functions. In reality, mobile phones can be used in different fields such as gaming, shopping, research and more. The characteristics of a mobile device became possible because we could easily download, install and use applications until today.
A new product with a new feature and good specializations is launched on the market every day. It is therefore very difficult these days to select a favorite mobile phones brand. Only one thing can be done, there are some mobile phones which are best in mid-range.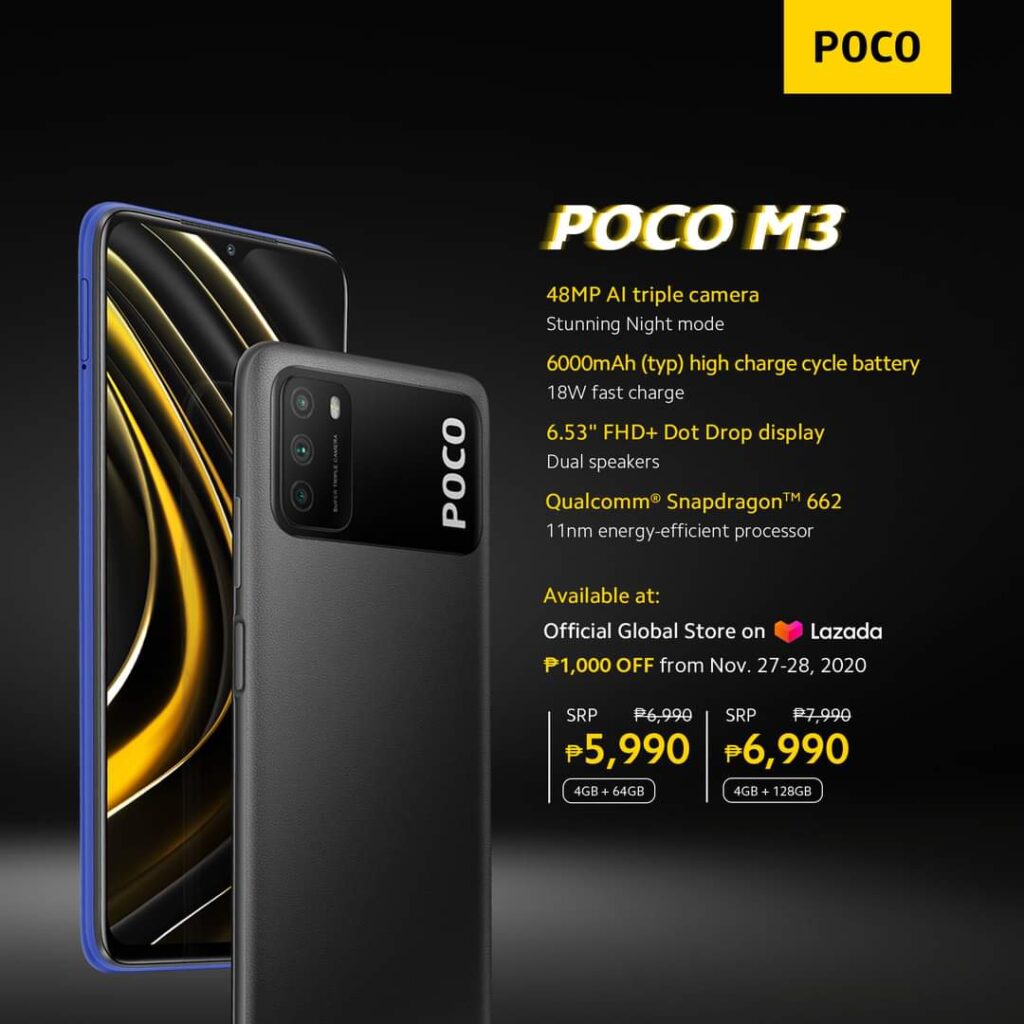 POCO M3 (4GB+64GB/4GB+128GB) Global Version
The POCO M3 it has been officially launched in the Philippines and paints a picture of a long-lasting smartphone budget
The POCO M3 has a brand new design. There's a camera glass on the left, with a large background that extends to the POCO logo on the other side. It is available in black and distinct matt yellow and blue color options. Looking closely, you can see that it has a textured surface.
It managed to have a Snapdragon 662 processor with up to 4GB/128GB configurations for the entry-level device. There's also an enormous 6,000mAh battery with 18W of fast charging support.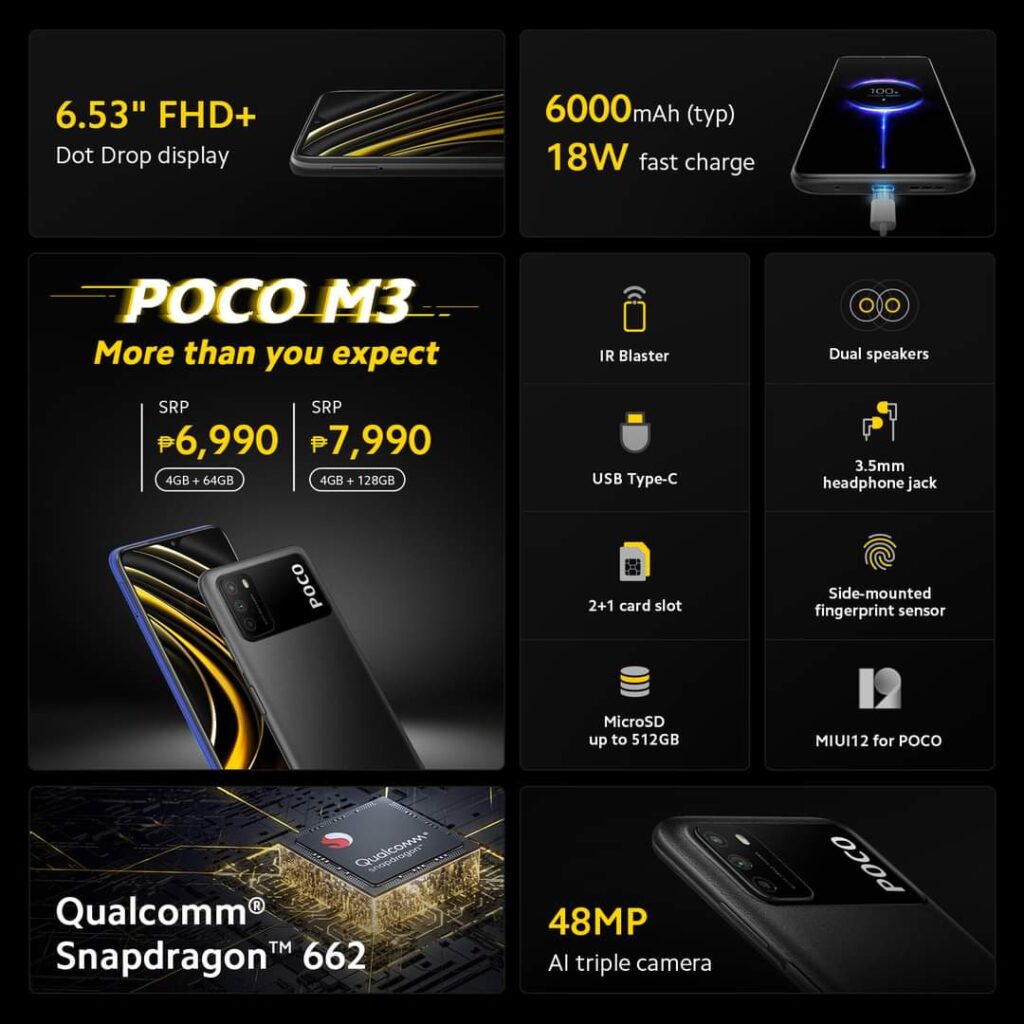 The camera setup also reflects the clear budget trappings of your phone, as you have a 48 MP triple camera setup. This consists of a 48 MP main camera and a pair of 2MP sensors (deep and macro) to inflate the numbers. The 8MP camera in the above waterdrop does not handle your selfies.
Other notable features include side-mounted fingerprint scanner, triple slot design (two SIM slots and mMicroSD slots), MIUI 12 for Poco atop Android 10, 3.5mm port, IR blaster, and camera-based face unlocks.
Mobile phone companies are today vying to provide the best mobile phone ever. Keeping this in mind, we might hope to see more features in upcoming mobile phones. Things that are today not feasible can be seen in the near future, which can all be seen in future mobile phones.
It is now available at Lazada. For people who are not yet familiar with the application you can download it from the App Store or Google Play or place your orders through your browser at www.lazada.com
You May Also Like
November 17, 2020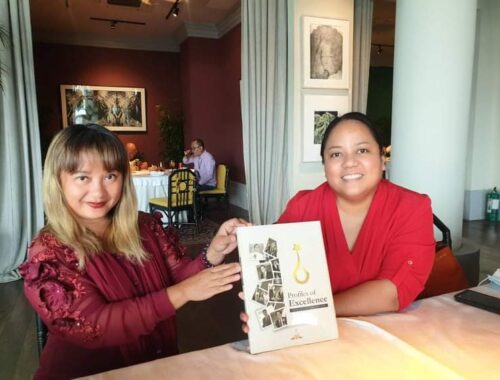 February 15, 2022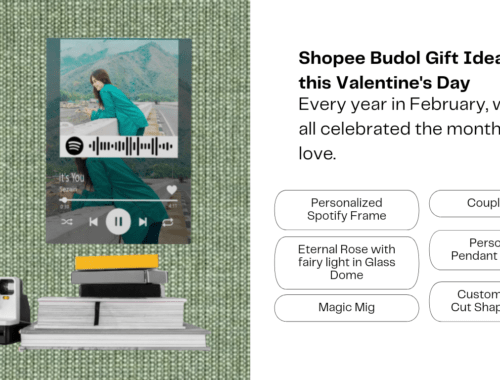 February 8, 2022